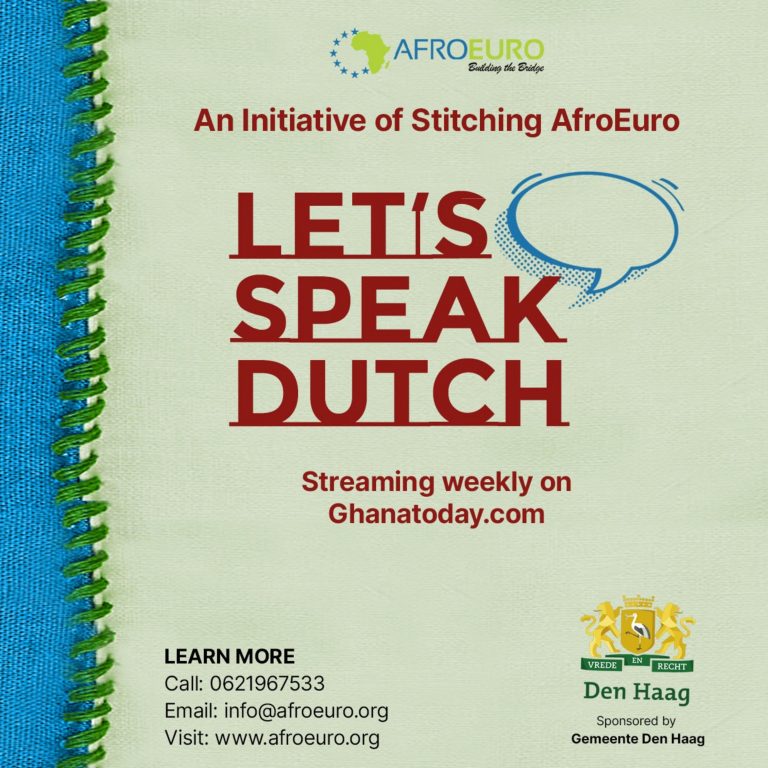 Let's Speak Dutch
This podcast is intended as an educational platform for learning Dutch. It's a beginner level for non-native speakers.
Let's Speak Dutch – Session 03
"Let's Speak Dutch" is an initiative of Afroeuro Foundation in partnership with the Hague Municipality to encourage learning the Dutch language. The course is a beginner level for non-native Dutch speakers and broadcast lives in the local dialect on Ghanatoday.com and other local radio stations. The broadcasts are also streamed via Facebook and the recordings are available on YouTube & podcasts.
AfroEuro Foundation is a non-profit organization with headquarters in the Hague, Netherlands. The organisation seeks to build a positive image for African-European migrants living and working within Europe as well as encourage and promote African migrant professionals, students, artists, politicians among many others, to be involved in the community where they live, and to be responsible citizens in taking vital roles in all areas of national life. Afroeuro Foundation operates in both The Netherlands and Ghana.
Subscribe to current and past episodes of "Let's Speak Dutch" on the following channels:
YouTube: https://tinyurl.com/5s6kxvmy
Spotify: https://spoti.fi/3tyliIt
Breaker: https://www.breaker.audio/lets-speak-dutch
Website: https://afroeuro.org/podcast/
Search Results placeholder